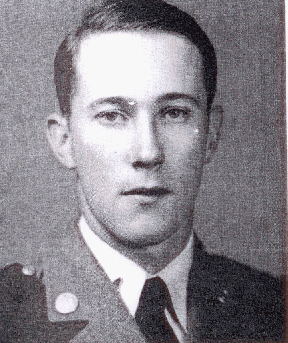 1940

Mechanical Engineering

Cadet Sergeant, Second Lieutenant; American Society of Mechanical Engineers, Greenwood Club, ROTC Camp McClellan, Track Team

Donalds, SC

Army Air Force, Second Lieutenant

28 Group, School Squadron

Oct 26, 1918

Nov 2, 1941

Non battle death - Killed when his plane crashed into a mountain side in California on an official flight returning from Salt Lake City, Utah.

Turkey Creek Baptist Church, Ware Shoals, SC

SE
Additional Information
Interred at Turkey Creek Baptist Church Cemetery near Ware Shoals, SC.  Memorialized on Abbeville County Memorial.
Extract from "The Tiger," the Clemson student newspaper.
In reverence to the memory of Lieutenant Robert Earle Agnew, only son of Mr. and Mrs. C. C. Agnew, Donalds, SC, mechanical engineer, class of 1940, member of A.S.M.E., we pause to pay tribute.
Robert joined Turkey Creek Baptist church when ten years old; attended Shoals Junction Grammar school and Ware Shoals High School.  He entered Clemson College in September, 1937, and enrolled in the School of Engineering.  During his senior year he took the Civilian Pilot Training Course.  He was the first student to solo.  He graduated a second lieutenant in the Army.
He received a vocational scholarship from Calloway Mills at LaGrange, GA, worked for six weeks and was awarded a government scholarship for basic training in C. P. T. for being one of the best pilots from Clemson.  This made him very happy.
After three weeks of basic training, Robert joined the Army Air Corps.  Sent to Randolph Field as a Flying Cadet and on to Kelley Field; graduated as a second lieutenant in the Air Corps, March 15, 1941, and was made an instructor at Moffett Field, California.
Robert was killed on November 3, 1941, when his plane crashed into a mountain side on an official flight returning from Salt Lake City, Utah.
In one of his last letters to his parents, he wrote the following: "If I should die in a plane crash, I will die happy; everything will be all right."
United States Army Airplane Casualty Report  BT-15 SN# 41-10064; Organization -78th  Group. School Squadron Moffett, Field California;- Place of Departure ; Stockton Calif.  Type of Mission: Navigation; Location of Crash: Niles Calif; Date; November 2 , 1941  Number of Crew – 2
Crew:
2LT Robert E. Agnew – Pilot
Pvt Dan Fisk
Narrative: Airplane took off from Stockton, California at 09:13 PST for Moffett Field, California.  Plane did not reach destination.  Weather conditions could not be determined due to the peculiarities of the terrain.  While in flight it is believed that either the pilot was letting down out of the clouds just prior to impact with hill or pilot was endeavoring to fly with very low ceiling and misjudged thus causing impact with the ground.
The elevation of the hill was found to be around 1900 feet. The plane hit the ground in a right turn and the impact resulted in total destruction of the plane.

The motor and propeller stopped approximately 100 feet from the point of impact
The right wing approximately 200 feet from point of impact
The left wing approximately 300 feet from point of impact
The fuselage approximately 400 feet from point of impact
The radio was found to be non-functioning
The airplane was reported in good mechanical condition prior to take-off.  There was no damage to private property, but all the crew was killed.  The crash site was discovered on November 5, 1941 and the wreckage was found to be of no further use to military service.
Related Images Click to Enlarge
Extra Documents
Vignette written for The Echo by Kelly Durham – Storm Clouds